Centre for Neuroscience (CNS)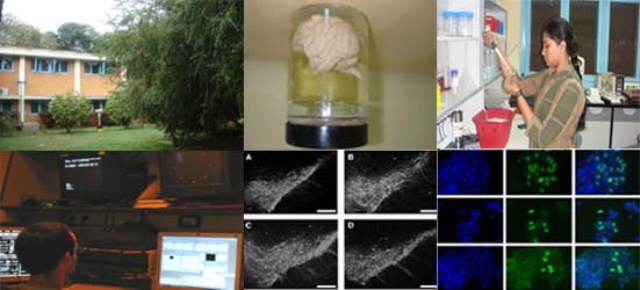 Recent Submissions
Recent studies over a few decades have changed the perspective of the molecular architecture of functional zones within synapses and other cell junctions. Observations in the last decade confirm Post Synaptic Density as ...

The effect of visual attention on neural signals has been extensively studied using various techniques such as macaque neurophysiology and human electro/magneto encephalogram (EEG/MEG). Depending on the technique, different ...

Some of the brain's most remarkable feats such as learning and memory, are thought to emerge from elementary properties of chemical synapses. The distinctive feature of these synapses is that the action potential in the ...

Gaze or eye-head coordination is an ethologically and physiologically important process that directs the visual system to objects of interest. Due to its relative simplicity, it is an ideal system to study multi-effector ...

Events in our everyday life are encoded as memories that can be consciously recollected and remembered, although our ability to retrieve the specific details associated with these events diminish with time. Such losses ...

The aim of this study was to use human induced pluripotent stem cells (hiPSC) to understand key steps of neuronal differentiation and to model the human brain developmental disorder, primary microcephaly (MCPH). MCPH is a ...

The discovery of dendritic spines by Santiago Ramón y Cajal is one of the most important chapters in the history of neuroscience. Apart from establishing the neuron doctrine, it presented dendritic spines as the information ...

Remote retrieval of declarative memories has been under investigation for a long time. After acquisition, long-term encoding of memories happens through crosstalk across multiple brain regions. Through systems consolidation, ...

Spatial spread of a particular brain signal can be defined as the area of the cortical tissue around the recording electrode that contributes to the electrical activity recorded by the electrode. More specifically, ...

The results from this study establish the molecular mechanism underlying the Aβ42-mediated dendritic spine loss observed in the APP/PS1 mouse model of AD. Further, this study highlights the role of Aβ42 in altering the ...

Amyloid Precursor Protein (APP) is implicated in several functions in neurons, but the altered processing of APP in synapses holds a key to understanding the onset of the molecular progression of Alzheimer's Disease (AD). ...

Alzheimer's disease (AD) is a progressive neurodegenerative disorder characterized by impaired memory and other cognitive deficits. Even though the genes associated with familial AD were discovered more than three decades ...

In response to injuries, infections or in neurodegenerative disorders, astrocytes get activated to become reactive. This phenomenon is called astrogliosis and is marked by a spectrum of changes which encompasses structural, ...

Axon growth and extension are dependent on the interaction of neurons with extracellular matrix (ECM). The interaction between cells and ECM is known as focal adhesion (FA). Vinculin is one the major proteins of FA complex ...

Amyloid Precursor Protein (APP) is a key player in Alzheimer's disease (AD). Despite intuitive insights into differential proteolysis of APP, there is a little understanding of how the amyloidogenic machinery is distributed ...

Humans and other animals form internal mental maps of the outer world in order to navigate. Hippocampal place cells and grid cells in MEC (medial entorhinal cortex) are the key components of this navigation system. However, ...

In everyday life we make a variety of reaching movements. Most of these reaching movements have a clear objective of bringing the hand to the spatial location of the object of interest. Although we typically do not explicitly ...

Autism Spectrum Disorders (ASD) constitutes a spectrum of developmental disorders that share common phenotypes of social and communication deficits and repetitive behaviours. ASDs have many possible underlying causes ...

Saccades are rapid eye movements that we continually make (about 2-3 times per second) to look around and scan our visual environment. Though we effortlessly execute saccadic eye movements all the time, they are not just ...